What can i do with this app?

This app is useful when you don't know what to buy, and you don't want to waste time. If there's a review on this app, you can easily check what other people think about that product, and how many people loves (or hates) it. Else, you can do your own review, in a pair of minutes!
What can i post? what not?
You can post everything that you can find in a supermarket, vehicles, other apps, electronics.
​You can't post people / places, guns or weapons in general, drugs or medicines, pornographic content, and illegal things in general.
​Simple, isn't it?

You can post only your photos or copyright-free photos (you can search for them on the net).
You can sign in with your Google account, because everyone with an Android phone has one.
Are there popups or other ads? how can i help you?
I don't put popups, because you could accidentally press it. I only put some banners ( = little ads at the end of a page) so, if you want to help me, you can press them. I blocked potentially malicious ads, so you can press on them 100% sure that nothing bad will happen.

I saw a review that doesn't follow the rules. what should i do?
At the end of other people's reviews, you can see a button "flag as don't following rules". Simply press it!

Powered by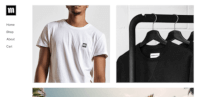 Create your own unique website with customizable templates.